Design the life you're excited to wake up to
IMPROVE YOUR RELATIONSHIPS, CAREER AND OVERALL HAPPINESS

You can't keep going through the motions, getting the same results that leave you feeling blah and unfulfilled.
But where do you start?
Suffering comes from the misalignment between what you desire and your mental habits and behaviors.
To create lasting change in your life you must first go within, identify the habits and beliefs that get in your way and transform them.
I'm here to guide you through the process that will help you align with your deepest desires and soul's longing.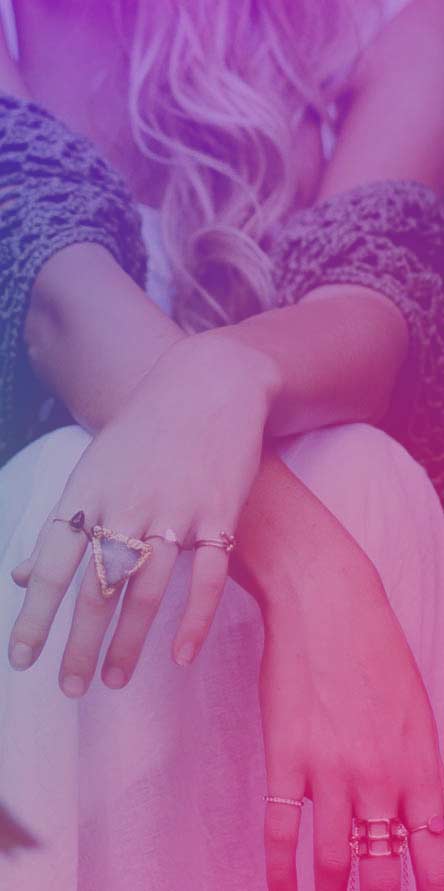 SOUND FAMILIAR?…
You're ready for big changes in your life
You're busy, overwhelmed and have no time for yourself
You want to deepen your spirituality and intuition
You feel stuck and unfulfilled in life/relationships/career
You're inner critic gets in the way of really getting ahead
You struggle to believe in yourself and your potential
---
I know what that's like. For so long I felt lost and unable to create a life that really lit me up inside. And I knew there must be more so at an early age I started seeking answers.
I've read hundreds of books, taken tons of classes and spent thousands on personal, business and couples coaching. My journey has taught me powerful tools to remove mental, emotional and energetic blocks and I've created a life I truly love, doing the things that matter most to me.
Don't stay stuck and unhappy one minute longer.
THIS TRANSFORMATION PROCESS WILL HELP YOU…
Unapologetically radiate your true, authentic self
Recognize and change your negative mental habits
Create peace and simplicity in your life
Learn how and receive support to remove energetic blocks
Break free from self-sabotaging behavior
Get out of your own way and thrive
Find your unique flow
Create a life that fills you up
UNCOVER WHAT'S ALREADY THERE
Deep down you already know what you want, what you need and you're perfectly capable of creating your best life. I hold sacred space for you to connect with those deepest desires and to find the courage to live the truth of who you are and what you are here to experience.
I'm here to guide and support you as you explore the depths of your soul and create an amazingly inspiring life.
I help you recognize and change habits and behaviors that are not supporting the vision you have for yourself. I also help you remove the mental, emotional and energetic blocks that get in the way of your happiness.
I teach you Breathwork and other practices to help you remove energetic and emotional blocks, deepen your spiritual connection, awaken a powerful sense of self and so much more.
Gut check, if you are saying "Yes! Yes! Yes!" right now then I would love to gift you a 30-minute Discovery Session to see if we make a great team. Schedule your session now!
"Mary Ellen led me through a 12 session transformation program during a difficult period of transition for me and my business. Through this program, I developed a clear sense of direction and purpose with a measurable outcome for my jewelry design business. I was able to stay on track by creating action steps and having weekly calls with her to discuss my progress and challenges. During these calls, she communicated in a way that was both caring and nurturing. This along with her knowledge and empathy has allowed me to understand my thoughts, feelings and behaviors on a deeper level. This transformation program has given me new insight and tools which will help me continue to move my business forward. Thank you!"
Rebecca Lockhart
"It was really nice and useful to be reminded about what it is I REALLY want. You have a great style: practical, empathetic and smart."
C. B.
"I was stuck in a very unproductive and self-inflicted rut when Mary Ellen offered to chat with me. Just by talking with her for a brief time, I felt as though a great weight had been lifted and I was finally ready to do something to move forward. Sure I was terrified, but at the same time Mary Ellen helped me to also interpret that feeling of anxiety as one of anticipation and gave me the positive outlook that has me in a much better place today. I look forward to spending more time with her and myself."
Andrew Snider
"Thank you Mary Ellen!  I have engaged in a series of Breathwork Coaching sessions with Mary Ellen and each one has been uniquely powerful. I am on an incredible journey of growth and transformation and incorporating Breathwork has enhanced and deepened this journey. Those moments of stillness, of detoxification, and of simply being present are so precious in this very fast-paced and noisy world. The health benefits of deep breathing are numerous from increasing your oxygen, to increased energy, to better sleep at night. Mary Ellen provides a warm, welcoming and gentle environment as she expertly guides you through each session. She truly is a positive support to anyone seeking to strengthen their health and give love to their body, mind and spirit."
Casandra Bryant
DON'T MISS THIS SPECIAL INTRODUCTORY OFFER!
(only a few spots available)