BREATHWORK in DENVER + ONLINE
AWAKEN THE WISDOM OF YOUR BODY FOR HEALING + TRANSFORMATION
Access heightened states of awareness with conscious
 Breathwork
The modern world demands a lot of you, mentally, physically, and emotionally. To avoid burnout, stay centered and healthy you must give yourself the time to slow down, go within, and reset.
Conscious Breathwork, also know as circular, connected Breathwork, is a powerful practice using non-ordinary states of consciousness to connect with the wisdom of your body, tap into an infinite stream of creativity, heal emotional wounds, expand your consciousness and so much more.
Try a session, your mind and body will love you for it.
"The Breathwork experience was priceless. I felt the release of stagnate energy and have been conscious about speaking kinder to myself. Also realizing that I don't need validation. I have a lot to offer. And it's okay if I'm misunderstood ; ) I will always remember you saying that. Sometimes it's the simplest (yet profound) things someone says that really resonate and implant themselves into the psyche. 
You have been a shining light to work with. I know the universe guided me to find you."
Kristin B.
Increase happy hormones like endorphins
Endorphins block pain in the body and enhance feelings of pleasure.
Reduce levels of the stress hormone cortisol
High levels of cortisol cause weight gain, trouble sleeping, low sex drive, and other undesirable health issues.
Improve digestion
Breathwork floods your system with healing oxygen, supporting and improving your digestion.
Release and heal emotional wounding
Old emotional pain comes to the surface to be released and healed.
Direct access to optimal states of consciousness and being in the zone
Flow states snap you into the present moment and awaken your truest potential.
Elevate creative insights and problem-solving skills
In a creative slump or have a big problem to solve? Breathwork helps you remove distractions so you can receive creative insights.
Increase oxygen levels of the blood
Your cells need oxygen to function properly. Low oxygen levels can lead to fatigue, anxiety, restlessness, and headaches.
Quiet the inner critic
Is your inner voice keeping you from moving forward in your life? Breathwork can help you quiet that voice and awaken to your truth.
Connect with your spirituality
No matter what your spiritual beliefs are, breathwork helps you create a deeper connection to all that is.
Improve self-awareness and self-mastery
See your thoughts, habits, and behaviors with clarity and feel empowered to make any necessary changes.
What to expect
Wether you do Breathwork in Denver or Remotely, your entire experience is treated as a sacred journey. I clear the space energetically and create a safe container for you to relax and explore the connection between your mind, body and energy systems.
During your first session, I teach you how to do the breath technique, give you some background on the practice and answer your questions. I invite you to set an intention for your session and then have you lay down for 60-minutes of circular breathing.
I play evocative music to help guide your experience while coaching you with a compassionate voice attuned to your needs in the moment. If you choose, I'll also practice Reiki and other energy healing modalities to support you in balancing your energetic body.
Breathwork isn't only a physical, mental and emotional experience, it's a powerfully spiritual experience as well. Every session is unique and I know you will experience exactly what you need each time.
After the Breathwork is complete there is time for you to share and integrate your experience. This is an important part of the process because these experiences can be dreamlike and fleeting. Sharing and processing what you experienced helps you remember and integrate what you learned into your day-to-day life.
I am always so humbled by what my clients share in sessions. Breathwork lifts the veil between the seen and unseen worlds we live in and is a truly healing and awe-inspiring journey.
Private Sessions
Each Breathwork session includes:
Laser focused coaching
Intention setting
Intuitive guidance
60-min of Breathwork practice
Integration after your journey
15-min check-in call for support between sessions as needed
Breathwork in Denver, CO: Sessions are held in a beautiful studio space near 8th and Santa Fe.
Remote Breathwork: Sessions are held through private, secure Zoom link and are just as powerful as in-person.
One 90–120 minute session: $155
Package of four sessions: $557 ($63 savings)
Gift Certificates are available!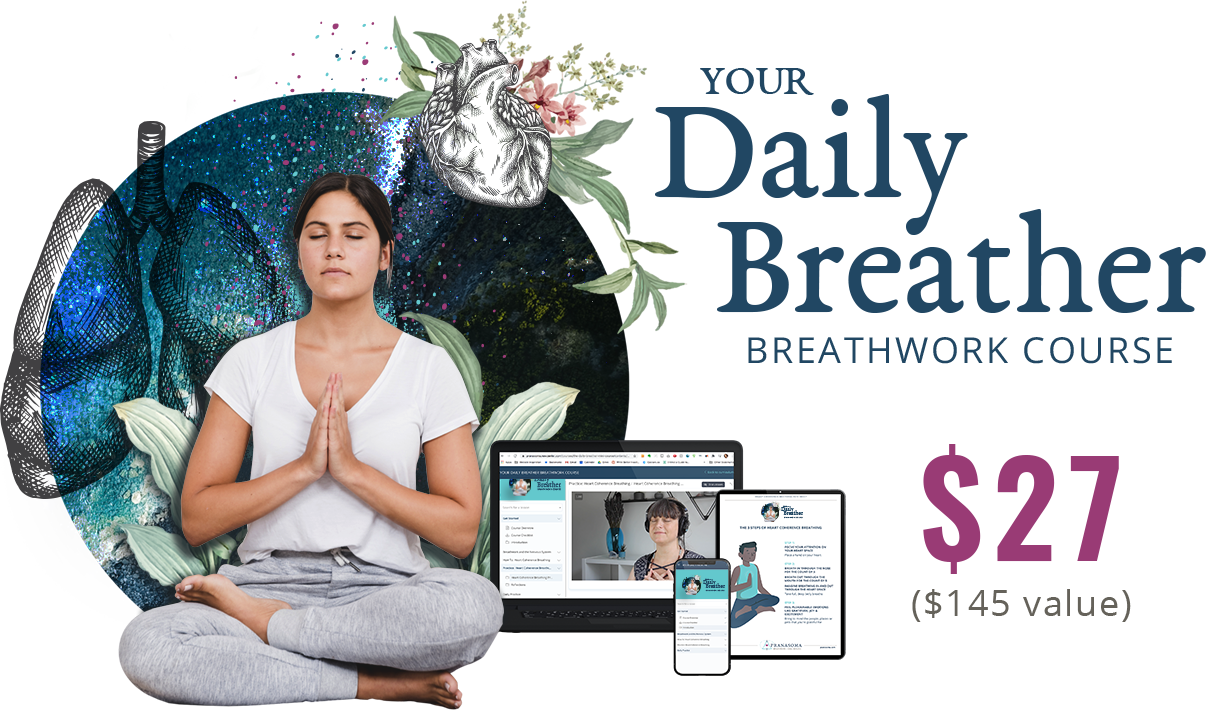 Mini Breathwork Course
Your Daily Breather Breathwork Course
A stress relieving, heart-centering, short training and daily practice for busy people who struggle to meditate.
This is the perfect course for anyone new to Breathwork and those who are looking for a short, gentle, guided practice to do daily.
In the Your Daily Breather video course…
LEARN: a simple Breathwork practice to calm your emotions and enhance your intuition
PRACTICE: in just a couple minutes per day or whenever stress and anxiety hit
FOCUS: it's perfect for those who struggle to keep their mind quiet when meditating
INCLUDES: 5 Video Lessons, 4 Guided Audios, Course Checklist, Info Guides and Breathwork Challenge
BENEFITS: regulates your body, mind and soul so you feel less stressed in just minutes